Book Expert Services for Hygienic Dead Possum Removal in Hobart
Get professional help for the safe and hygienic removal of dead possums in Hobart with us. Humane Possum Removal Hobart understands the unpleasant sight and smell of a carcass and prioritizes the health and safety of our clients.
Our team is equipped to handle any condition of the possum, from partially decomposed to infested with insects and pests. We also ensure proper disinfection and prevention measures to protect your property, home, office, school, hospital, hotel, or restaurant. Contact us today for fast and reliable assistance with dead possum removal."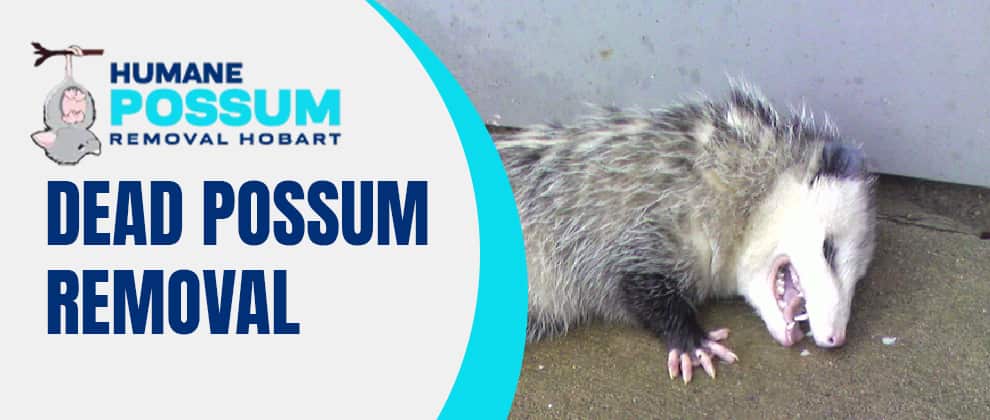 Our Efficient Process for Quick and Smooth Possum Carcass Removal
At Humane Possum Removal Hobart, we understand the importance of safely and hygienically disposing of animal carcasses to prevent contamination of the surrounding environment. This is why we have a dedicated team of professionals trained to quickly and effectively handle the removal process in various situations.
1- Suppose the dead animal is visible and easily accessible. In that case, our team will carefully pick it up and transport it to a designated burial site while also taking the necessary steps to sanitize and deodorize the affected area. This includes using specialized cleaning products and equipment to eliminate potential health hazards and unpleasant odours.
2- In cases where a carcass is only suspected by smell, we will conduct a thorough inspection of the property to locate and remove any hidden carcasses. Our experienced professionals will search every corner and crevice to ensure that no decomposing animal remains are left behind. We will also offer recommendations for preventive measures to help avoid future incidents.
Contact Humane Possum Removal Hobart team for quick, reliable, and professional animal carcass removal services in Hobart. We are here to help you deal with this unpleasant task most efficiently and effectively as possible.
We Are Proud to Offer Affordable Pricing for Dead Possum Removal
Our dead possum removal prices vary, based on customer needs and location challenges.
At Humane Possum Removal Hobart, we offer competitive pricing for our services and are known for providing the best value to our customers. Our professionals will determine the final cost of your dead possum removal after conducting an initial inspection of the affected area. We consider various factors when determining the price, including the number of possums, whether the carcasses are visible or hidden, the time needed for sanitization, and any location-specific challenges. On average, our services start at about $150 and can go up to $350, depending on the situation's complexity. Contact us today to get a quote and experience the high quality of our work at a fair price.
Why Choose Us?
When looking for a highly dedicated dead animal removal team in Hobart, consider choosing Dead Possum Removal for the following reasons:
We prioritize the health, safety, and satisfaction of our clients.
We have a large base of satisfied customers who trust in our services and commitment to responsibility.
Our team is available 24/7 to assist you when you need it most.
We understand the importance of maintaining hygiene during removal and following proper protocols to keep the area clean.
We quickly respond to any situation and have the experience and skills necessary to handle it efficiently.
All our possum removalists are licensed and professional, ensuring possum relocation service is done safely.
Contact Humane Possum Removal Hobart-wide
We understand the urgency of removing dead possums and are here to help. Our team is available around the clock to provide professional services at reasonable prices. Call our toll-free number, and we will handle the situation promptly, efficiently, and within minutes. Don't let a dead possum be an eyesore any longer. Contact us today for fast and reliable assistance.
FAQs
Why do I keep finding possums dead in my Hobart home again and again?
Dead possums are likely attracted to dark and high places like attics, crawl spaces, basements, storage sheds, or decks if you have been finding them in your home. These areas provide shelter and warmth for possums, but sometimes they may accidentally die there.
Suppose you keep finding dead possums on your residential property. In that case, it is crucial to contact Hobart's professional dead possum removal services to safely and efficiently remove the carcasses and prevent any potential health hazards. Don't hesitate to seek help. Call a professional for assistance today.
Do I need to be careful around dead possums?
Yes, it is important to be cautious around possums even after their death as they can still spread diseases that can be harmful to both humans and pets. Some of the diseases that possums can transmit include tularemia, leptospirosis, spotted fever, and tuberculosis.
What are the common reasons for possums' death?
Possums can die from exposure to harmful elements and chemicals; As well as from starvation and cold temperatures. It is common to find dead possums with missing tails and ear tips.
How Long do I need to wait to avail your same-day dead possum removal services?
We offer 24/7 booking availability and provide same-day service for emergencies. When you book a slot with us, we will arrive at your location within an hour or so with the service.
What kind of dead possum removal solutions do your experts use for commercial services?
Our dead possum removal solutions are eco-friendly and safe for commercial and residential properties and their occupants. Contact us to book a slot, and let us handle the situation safely and responsibly.